About Glass House
There is something magical in transparent buildings like Glass House. Beautifully designed in a minimalist style inspired by famous Bauhaus, this house literally blends into the surrounding landscape. Thanks to the mighty stream of daylight, the large open interiors seem bigger and more spacious, which naturally contributes to a better mood. Contemporary and functional, Glass House epitomizes a new lifestyle, healthy and close to nature. ``Wow effect`` guaranteed!
330 m2
Large, spacious, superb and definitely minimalist.
1 Floor
Flat-roof with solar energy system.
Carport
For 2 cars. Storage room and Hobby room (golf, ski, bike..) in option.
5 Bedrooms
Bedrooms with large floor to ceiling glass walls.
5 BATHROOMS EQUIPPED
Ready to use, fully featured (well-known European brands).
Kitchen equipped
Ready to use, fully featured (well-known European brands).
built-in wardrobes
Fitted wardrobes made of MDF panels, white or coloured.
Heat Pump
Significantly increase your energy savings and reduce carbon footprint
Solar Panels
A key element of a green and energy-efficient home.
Electrical installation
The house contains a complete electrical system with a control unit.
Water and sewage installation
The house contains a complete water and sewage system.
Smart home system
Remotely manage electricity use, lighting, and security systems.
Additional Costs
Foundation
Foundation slab not included. Factors that affect the cost include local regulations and vary significantly by country.
Transport
Transport not included. We do it but we can calculate the cost only after you choose your home and enter your localisation.
Land preparation
Land preparation not included. The costs of clearing land and utility connections vary significantly by country.
PERMITS & FEES
Costs of permits required for preparing the land, installation and others fees are not included.
Glass House Plan
Glass House is a one-floor turnkey house of 330 m2 with a large living room including an open kitchen, a dining area, and a relaxing area, 5 bedrooms, involving a Master Bedroom. Selected rooms can be converted into a home gym or an office, useful not only in the COVID-19 era.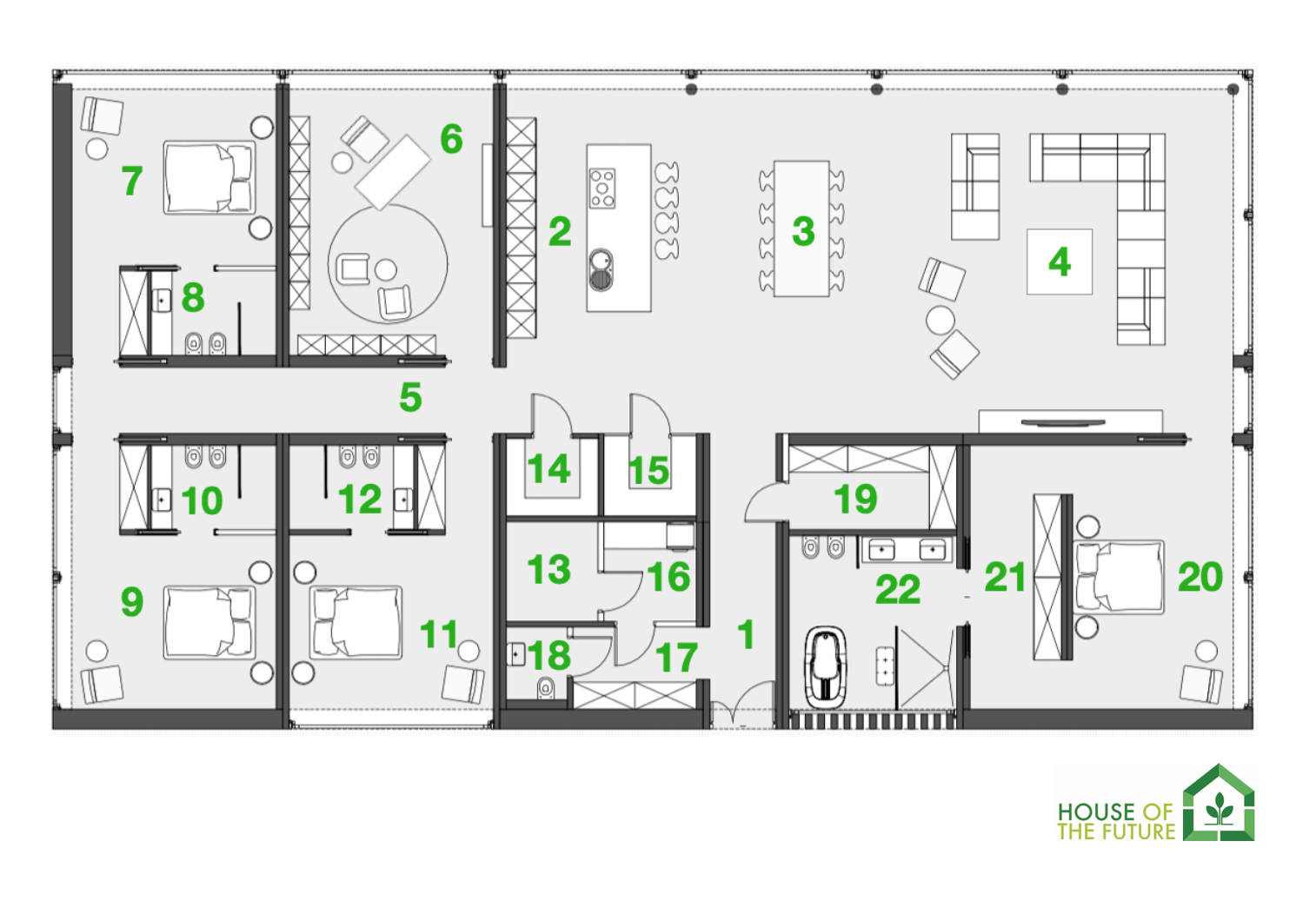 1. Entry and main hall
2. Open kitchen with island
3. Dinning Area
4. Living Area
5. Corridor
6. Office
7. Bedroom with built-in wardrobes
8. Bathroom
9. Bedroom with built-in wardrobes
10. Bathroom
11. Bedroom with built-in wardrobes
12. Bathroom
13. Tech Room
14. Wine Cellar
15. Pantry
16. Laundry
17. built-in Wardrobe
18. Guest toilet
19. Cabinet
20. Master Bedroom
21. Master Cabinet
22. Master Bathroom
You can add 8 paid options to your Glass House.
1. TERRACE
2. CONVERSATION PIT (FIRE PIT)
3. SWIMMING POOL
4. PERGOLA
5. GYM ROOM (instead of one of the bedrooms or detached)
6. STORAGE ROOM AT CARPORT
7. HOBBY ROOM AT CARPORT (SKI, FISHING, CYCLING, GOLF)
8. Wine Cellar